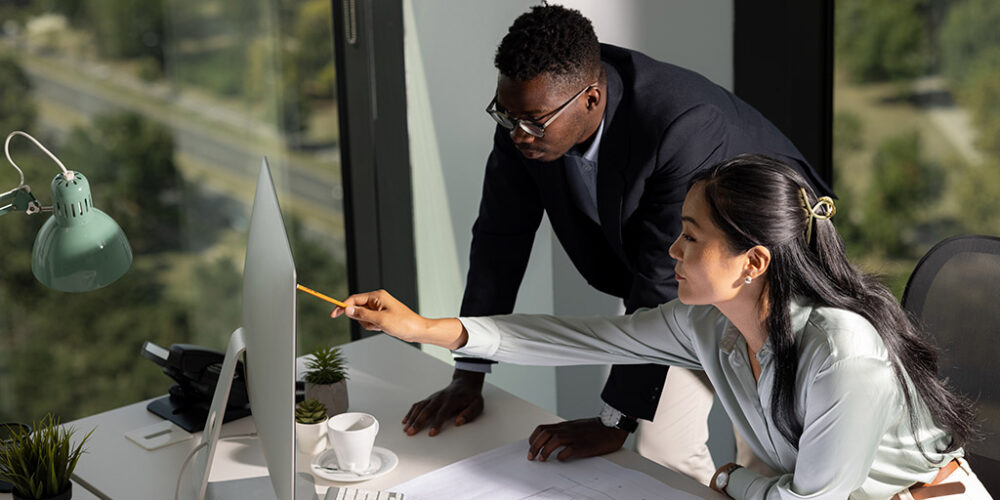 When it comes to hiring, it may seem easier to rely on the pre-existing recruitment process. However, as your business grows and evolves, the questions you ask within the hiring team need to change and adapt, too. Here are some questions to ask the hiring team to make the process more efficient:
Does the role need to be redefined?
Asking this question can lead to meaningful discussions among your team about what roles the company needs filled and why. Sometimes open positions don't need to be filled after they're vacated, depending on changing consumer and client trends. You can also redefine a role to imagine a more relevant and needed job, with targeted responsibilities to make the workplace function better.
2. Can we hire internally?
Consider internal growth and what offering a position to an employee that already works for the company can provide. They already know the culture and values, what is expected of them, and have a sense of how the workplace operates on a day-to-day basis. Internal growth also encourages employees to always function at their best and to showcase their individual skills because opportunities for a promotion may arise.
3. Does our career page reflect our company values and culture?
One of the first aspects of a business that people look at during their job search is the career page. Job seekers want to know what your values are, the culture, what positions are available, and the types of people who work there. If the website doesn't offer any insight, people may overlook employment opportunities and search elsewhere. You may also experience an influx of people searching for a job who aren't a fit for your company, but don't know that because the career page needs an update.
4. Should we be considering different avenues to recruit candidates?
Many recruiters rely heavily on posting jobs online, but after that, marketing the positions is important. Consider what different social media platforms may offer your company in terms of outreach, as well as sending the jobs directly to candidates via text message and email. Also, if you're not ready to hire immediately, consider building a talent community.
5. What can we do to make the application process easier?
No one wants to fill out an application that takes a half hour (or longer). Shorter applications with more concise job descriptions attracts more applicants because it's easier for people to fill out and understand what the job entails and what will be expected of them. It can also simplify the items your recruitment team needs to review during the hiring process, so make sure you include questions and submission boxes for information your company values and cut out anything unnecessary. Figure out what's unnecessary by going through your own application process.
Ultimately, the questions you may ask to make the recruitment process more efficient may vary business to business, but these are a good place to start.
Nexxt is a recruitment media company that uses today's most effective marketing tactics to reach the full spectrum of talent – from active to passive, and everything in between. Learn more about hiring with Nexxt.
This article was written by Michaela Coll.
Michaela Coll is writer, editor, and consultant. During her free time, Michaela likes to write poetry, blog posts, and creative short stories, some of which you can find on her Linktree. When she's not writing or reading, you can find her snuggled up with her cats or dogs.