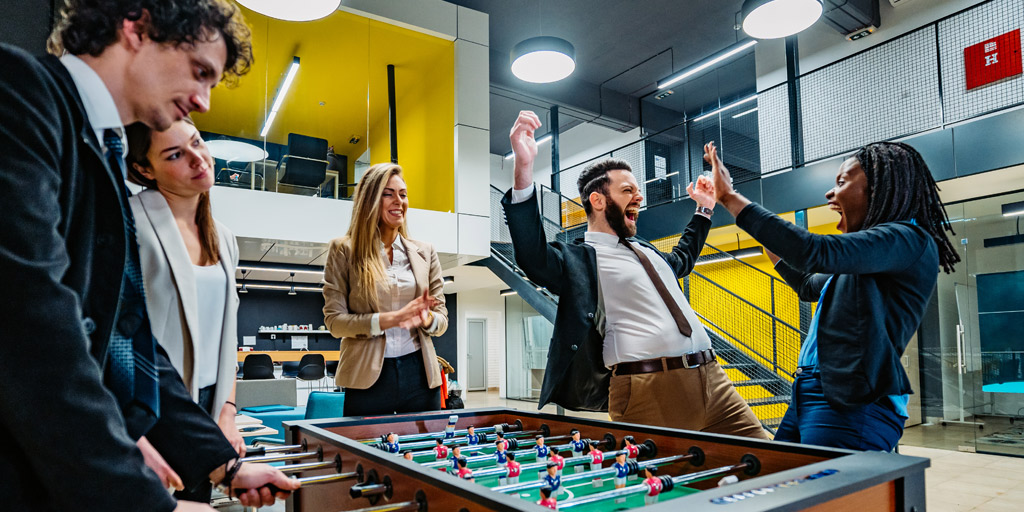 My first job out of college was at a startup. We had a carnival style popcorn maker in the kitchen, a fire pole connecting the 1st and 2nd floor, kegs on Fridays, yoga classes every Tuesday and Thursday, and a softball team, and if you're thinking, "Wow none of this can happen right now!"—you're not wrong.
Shared food? Germs.
Fire pole with a bunch of hands? Ew.
Close spaces with a lot of people exhaling while "finding their breath"? NOPE.
We know our employees spend 40+ hours a week in their home away from home aka at work, and we know that the more they enjoy the time they spend working with us, the more productive time we get from them. But now, we can't provide the same environment, and we can't provide the same perks. Sorry team, we're going to have to get creative and come up with some new incentives.
Working incentives: A lot of our teams had to turn on a dime and take our work home with us. Not all of us had dedicated space within our homes, but in those first few weeks, we cleaned out the guest bedroom and probably tested out every chair in the house to see which one was most comfortable. Did you offer your employees a tech stipend to outfit their space to maximize productivity? Send home additional screens to plug in? Provide noise cancelling headphones? As it becomes increasingly apparent that working from home might extend longer than we all thought, investing in your employees' productivity will extend their ability to keep morale up until we figure out how to get back to the office.

Emotional incentives: Nothing is the same as it was 4 months ago, or even one month ago. There's a lot going on in the outside world, and even in the business world, and nobody is exempt from the added emotional baggage.  Without the proximity of your trusted colleagues to vent about a frustrating process or client, a lot of companies are providing weekly zoom happy hours, free online therapy, and access to meditation apps.  An employee with a healthy headspace is an employee who will go the extra mile when you need it most.

Educational Incentives: Some departments are going to need more attention than others during this time. Now is the time to educate and cross train your teams so that we can help each other out. There are also a bunch of online conferences going live and teaching how other companies handled these big changes on the fly— which is an excellent change of pace for a day and a big opportunity to bring in new ideas. Ongoing education for your staff helps diversify your employees' skill sets, making them more confident in their jobs, and it makes for more valuable and productive employees for you.

Culinary incentives: We're not getting together for a lunch and learn where we grab pizza in the conference room, we can't hop over to the kitchen for a cup of coffee. A lot of local businesses are struggling as well—can you provide gift cards to the beloved nearby sub shop to employees—keeping your team and their families fed, and a favorite lunch spot open long term?  I'm a strong proponent of the way to my heart is through my stomach, so buy me lunch and I will love you forever.
We all wish that this could be over and back to normal as states begin to open up, but even as the US economy gets moving again, we won't be able to do things the same way we used to. Social distancing, hand washing, and wearing masks will be here for the foreseeable future. What ideas are your companies considering to create new perks for your employees?

Nexxt is a recruitment media company that uses today's most effective marketing tactics to reach the full spectrum of talent – from active to passive, and everything in between. Learn more about hiring with Nexxt.