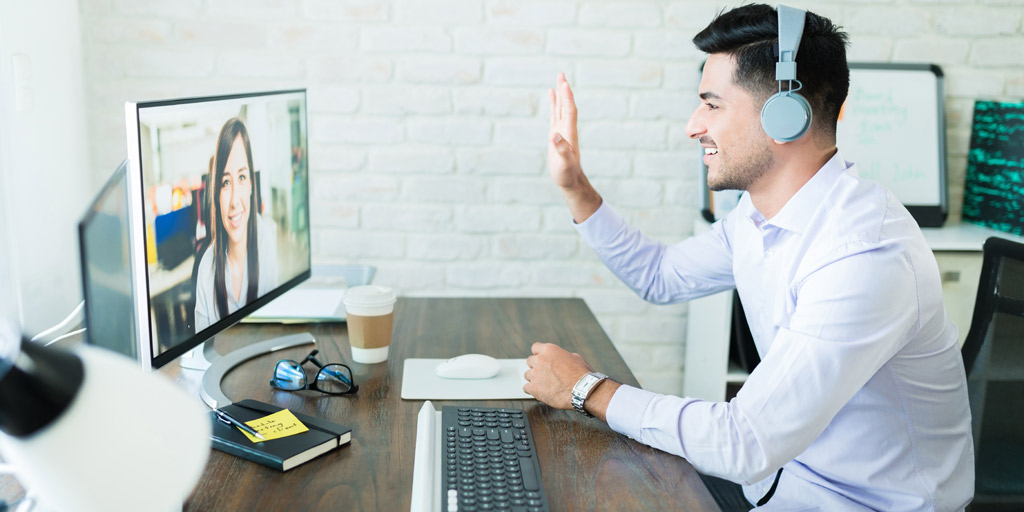 I remember—way back in the 1990's—watching Star Trek: Next Generation and thinking "Yeah, right! As if there'd ever be a time in the future when people regularly talk via video screen!" Boy, was I was wrong! It is now more normal than ever—and growing in popularity with every passing day. With the overall impact of COVID-19, many employers are utilizing video interviewing in their hiring process, and if you're looking to hire someone—a virtual "face-to-face" interview is likely in your future.  While we haven't reached the age of spaceships yet, there are plenty of ways to ensure that you get the most out of conducting a virtual interview.  Here are some helpful ways to harness this newfangled normal to your advantage!
1. As an employer, you set the tone for the interview—yes, even virtually! So, make sure you dress professionally, and choose a quiet, tidy place to conduct the interview. Remember, you also need to make a good impression as you are representing your company! Make sure your fellow employees know you'll be conducting them to avoid unnecessary interruption. That way, you make sure not to waste your—or the applicant's—precious time.
2. Don't forget about lighting! If it's too bright or too dim, the connection you are trying to build between the applicant and yourself can get lost. Find a well-lit room. Natural light coming through a window is usually the most flattering, but make sure it's not coming from behind you and shadowing your face—talk about creating a sense of foreboding! Bright cheerful lighting will foster a bright cheerful interview.
3. Test your technology! Bonus points if you try it out with a coworker who has an extra minute or two. It's easy for mishaps to happen, so if there are any, make sure they're not coming from you! Doing a test run on the app or program you'll be using will really help you be prepared. Test the audio and video elements, and if you notice anything tricky that may be easy to miss, feel free to email those interviewing with you to keep an eye out for it. You don't have to, but it may help keep your appointment times on schedule.
4. It's the purpose of every interview—virtual or otherwise! Make sure you properly communicate what virtual platform you will be using for the interview. Let them know in advance your expectations, the names of the interviewers they'll be speaking with, the length of the interview, and when they should hear back from someone. In an article by Bruce Anderson, he says "During times of high stress and uncertainty, don't hesitate to over communicate. Once your candidates know that their interviews will be done via video conference—and why—reach out to them and give them a rundown on the details of their interviews, just as you would if they were coming in to talk to people onsite." I think this is excellent advice, especially considering the myriad of complications that have come along with the COVID-19 virus. He also suggests as a last-minute precaution to send a backup phone number "in case there's a glitch or the technology gets wonky." Again, it allows you to cover your bases and make sure the virtual interviews run smoothly. Oh, and don't forget to act as if they are actually in the room with you! React and nod to their responses like you would in any conversation you would have. A smile probably wouldn't hurt either!
In closing, don't forget to check in with yourself during the interview too. Jot down what virtual tactics you want to keep and what you'll do differently the next time. I would also suggest to keep a list of the qualities you're looking for in an ideal candidate within view, in case you become distracted by technological aspects of this new way of hiring. In this ever-increasing digital age, we are indeed moving closer to a Star Trek-like age, but if you keep these basic practices for conducting virtual interviews in mind, you'll navigate it with the ease of someone who's been doing it for years. As Captain Jean-Luc Picard used to say, "Make it so!"
Nexxt is a recruitment media company that uses today's most effective marketing tactics to reach the full spectrum of talent – from active to passive, and everything in between. Learn more about hiring with Nexxt.
This article was written by Jennifer McDowell.
Jennifer McDowell is founder and Editor-at-Large of the website www.deskofjdogood.com, where she interviews authors, artists and entrepreneurs. She enjoys coffee, swimming, and all things Jane Austen!