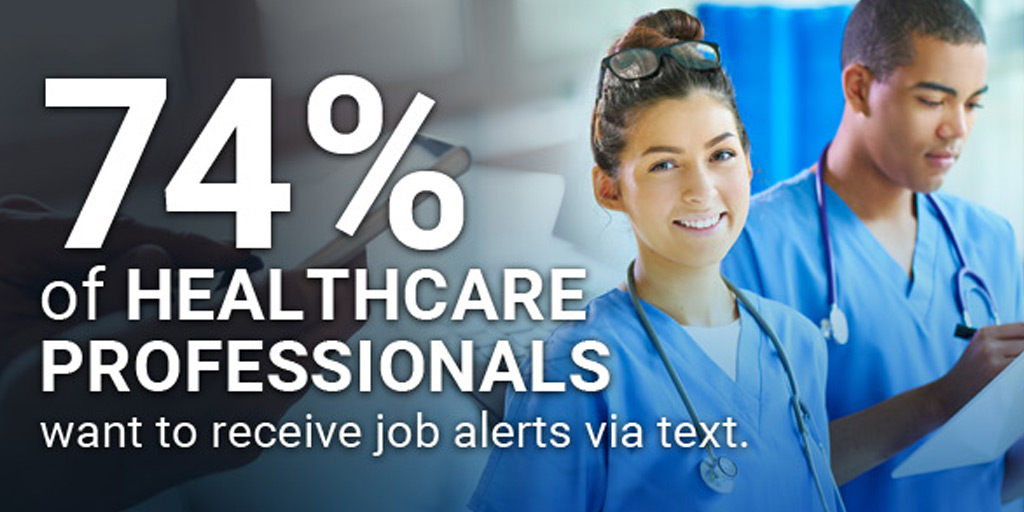 Picture this: you get into work at 6 am and are on your feet until your shift ends at 6 pm. You are exhausted from the day, both mentally and physically, and can't wait to just sit down. At the end of this long yet typical day, would fixing your resume be your top priority? Probably not.
This is one of many reasons hiring for healthcare can be a difficult and frustrating undertaking. Between the fast-paced industry and hard-to-fill positions, traditional hiring methods can come up short when trying to find the perfect candidate in a pinch. Thankfully, newer, more effective practices are coming to the forefront, making it easier to not only find qualified candidates but to also get in touch with them.
Nurses and other healthcare professionals have busy schedules—they often work nights or extremely long shifts, not always having the time or energy to look at job boards. One recruitment tactic that has been proven effective in this industry is text recruiting. Texting allows for easy communication with a nurse who can check his or her phone much easier than email or job sites. In fact, 74% of healthcare professionals say they want to receive targeted job texts about relevant opportunities.
In a recent case study, a leading healthcare company that provides outpatient services at over 2,000 clinics throughout the country was looking to fill a number of jobs. By sending 332 recruitment texts, the company was able to hire not one, but five employees for difficult-to-fill positions. Overall, their campaigns received a 41.5% response rate, higher than any of their other recruiting methods.
Whether you need to fill one or one hundred jobs, text recruiting ensures your message gets in front of the right candidates. For more tips and examples of this growing new tactic, check out the white paper on putting together a candidate-winning text campaign.

Nexxt is a recruitment media company that uses today's most effective marketing tactics to reach the full spectrum of talent – from active to passive, and everything in between. Learn more about hiring with Nexxt.