If you've had exposure to current events over the past few months, it's no shock that equality is a major topic of conversation. I recently read an article by @KatrinaKibben which raised some interesting and insightful points about how the decision of the Supreme Court to legalize same-sex marriages will impact HR departments across the nation. It is events and articles such as these that transform the way companies hire – and, ultimately determine if candidates do or do not apply to those companies.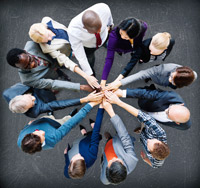 That being said, more and more companies are focused on developing a diversity hiring initiative as a tool to encourage candidates to apply. But that's not all there is to it. Nationally, we're seeing an increase in racial diversity among high school graduates, indicating that the 2025 public high school class will likely be only 51% Caucasian. Most of these graduates will undoubtedly be heading into the workforce shortly thereafter. Which begs the question, what really makes someone a 'diversity hire'?
Full disclosure: I am a white woman. Based on that alone, I would not likely be in the running when most employers consider making a hire based on the idea of "which one of these is not like the other?" However, I may have somewhat of an edge compared to my male counterparts when it comes to hiring in the tech industry.
In those cases where I – or any other candidate – miss out on a job, the reality is that diversity requirements may be playing as much of a role as my qualifications, if not more. Maybe my dream company has already hired enough people of the same gender, ethnicity, etc. They're looking for a hire that showcases their acceptance of all people, so they hire a female developer. A racially diverse marketer. A veteran engineer.
The thing is, it's not sufficient to simply check a box when asked with which ethnicity you most closely identify. My working background coupled with my ethnicity is not unique on its own. There's no apparent diversity on paper or through an initial meeting. Like a lot of people, what makes me a unique hire is related to my life experiences, both personal and professional. What you won't find on my LinkedIn profile is the fact that I'm a white woman who happens to be married to another woman. Now am I a 'diversity hire'?
As some things in HR tend to be, this concept of needing to fulfill a diversity requirement seems archaic. It assumes that embodying certain qualities are the same as having qualifications. It doesn't address the reality that in this day and age everyone is diverse in some way or another. So maybe it's time we set aside this idea of a 'diversity hire' and focus on just making the best hire. What a concept. (Or maybe I'll look forward to being a diversity hire when white people eventually become the minority.)
Nexxt is a recruitment media company that uses today's most effective marketing tactics to reach the full spectrum of talent – from active to passive, and everything in between. Learn more about hiring with Nexxt.