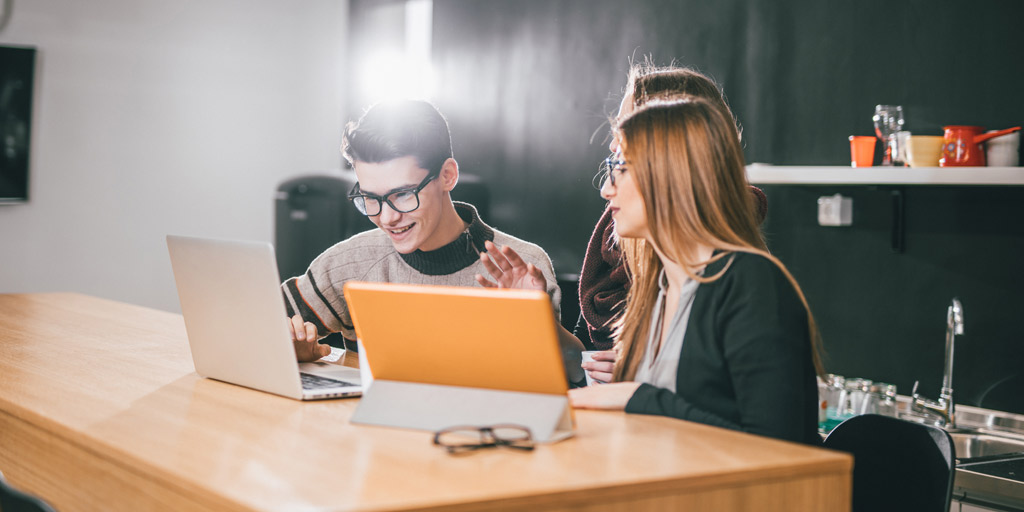 Now that Millennials are fully and firmly integrated into the American workforce, many businesses are setting their sights on the newest influx of workers: Gen Z. These Digital Natives were born into the world of WiFi which means their strengths (and weaknesses) will vary greatly from those of previous generations who were born into much more analog worlds. Their technological prowess will become increasingly necessary for companies to stay current which is shifting the dialogue from "Do we want to hire Gen Z?" to "How can we recruit more Gen Z?"
To attract worthy candidates from the newest workforce, hiring managers should start by knowing their audience. By homing in on Generation Z's biggest pain points, companies can increase their appeal to new candidates by providing forward-thinking balance. Several recent studies have found that Gen Z is largely concerned with technology, of course, but also their own workforce readiness and job security. So, what can you do?

1. Take a Tech-first Approach
Gen Z and Technology are synonymous. Born with a smart device in their hand, it is no wonder that increasing your focus on technology will help your business stand out among the ranks of similar companies. In fact,  91% of Gen Zers say technology would influence job choice among similar employment opportunities, but a nearly equal number of respondents expressed concern that technology is causing an uncrossable generation gap, negatively impacting their professional futures. Furthermore, 59% of polled Gen Z workers fear their current jobs will be obsolete in 20 years. Integrating ever-advancing forms of technology into your business model will not only ensure that your business remains current, but will also attract the very best of what Gen Z has to offer by providing a clear path of job security and illustrating the increasing importance of technological fluency.

2. Soft-Skill Programs
This newly emerging workforce has an unprecedented level of technological skill. However, as a result, they are also lacking in the "soft" skills required for typical employment and many fear this lack of interpersonal and social skills will impede their employability. Consider implementing mentorship programs. With vast potential for mutual benefit, mentors can help Gen Z mentees with on-the-job, real-world training while increasing their own technological literacy in the process. Additionally, with nearly 75% of college students seeking employment well before graduation, internship programs are a great way to attract and prepare the Z force for employment.

3. Provide a Sense of Security
The oldest Gen Zers have vivid memories of the recession hitting their parents and grandparents. Since then they have also seen the dwindling value of a college degree. As a result, the tech generation has a natural fear of the future.  They're worried about finding a stable job and being able to emerge from the pile of student loan debt post-graduation. Think about the types of positions people transition to within your company after a couple years in an entry position. Are lateral/interdepartmental switches permissible and if not, could they be? Gen Z wants to know they have options so they don't lose everything as their parents or grandparents did.
Indispensable technological skills and a penchant for multi-tasking make Gen Z candidates a valuable new resource. Understanding their work-related fears will help move your business proactively into the future. By prioritizing technology, promoting soft skills, and providing room for growth you can attract incredibly worthy candidates from the newest generation.

Nexxt is a recruitment media company that uses today's most effective marketing tactics to reach the full spectrum of talent – from active to passive, and everything in between. Learn more about hiring with Nexxt.

This article was written by E.C. Power.
E.C. Power is a freelance writer, avid coffee drinker, and compulsive list maker. She has a degree in Accounting and is now working on a Certificate in Novel Writing from Stanford University. She is currently working on her debut novel in New Jersey, where she lives with her family.