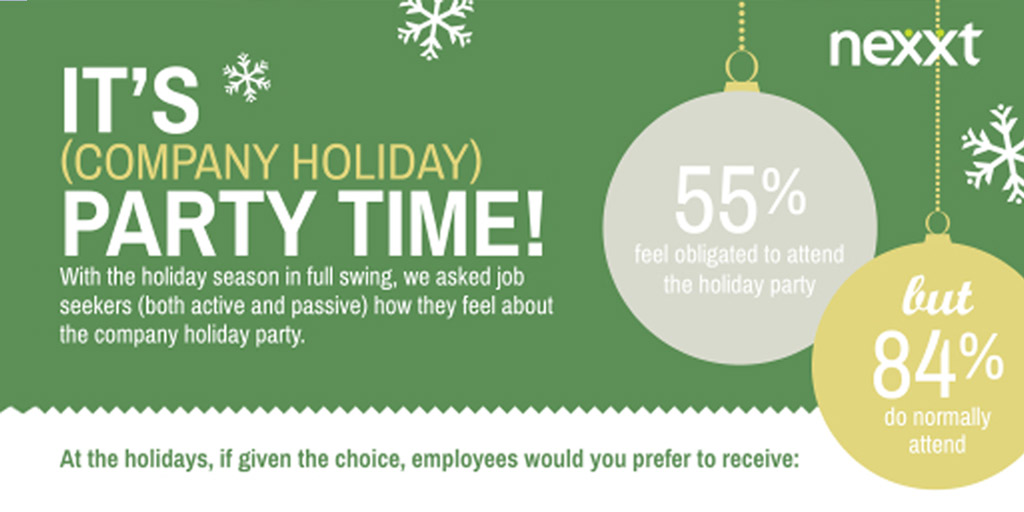 The holiday season is officially here and that means it's time for companies to host their annual holiday party. Many companies take this time as an opportunity to celebrate another successful year in the books and thank their employees for their hard work, but holiday parties can have another added bonus—they're great for cultivating company culture.
According to a new survey of 3,600 job seekers from career network Nexxt, 74 percent of respondents said they believe their company party boosts employee morale. And the reason is pretty simple—employees like to feel appreciated and valued and a holiday party is the perfect way to recognize that. In order to throw a great holiday party, be sure to involve your employees in the planning process, plan the best party for your organization, and consider a few additional ways of showing your appreciation this holiday season.
…read the full story on Social Hire.
Nexxt is a recruitment media company that uses today's most effective marketing tactics to reach the full spectrum of talent – from active to passive, and everything in between. Learn more about hiring with Nexxt.