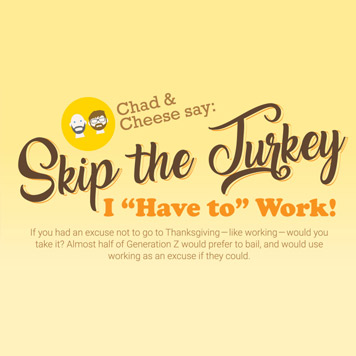 Go Ahead and Stay Open on Thanksgiving, Your Employees Don't Care!
Back in 2012 when big box stores announced that they would be opening on Thanksgiving to allow shoppers to get a jump on their holiday shopping, American workers were appalled. But four Thanksgivings later, it seems as though working on Thanksgiving is just something we now accept as…well acceptable.
So, to all of you businesses out there that are nervous about how your employees may react to working on Turkey Day? The numbers speak for themselves—56% of those surveyed said that they are already working on Thanksgiving or are willing to, and that number is up from last year. When we asked workers if they would work on Thanksgiving in 2014, only 48% of respondents said yes.
Nexxt is a recruitment media company that uses today's most effective marketing tactics to reach the full spectrum of talent – from active to passive, and everything in between. Learn more about hiring with Nexxt.