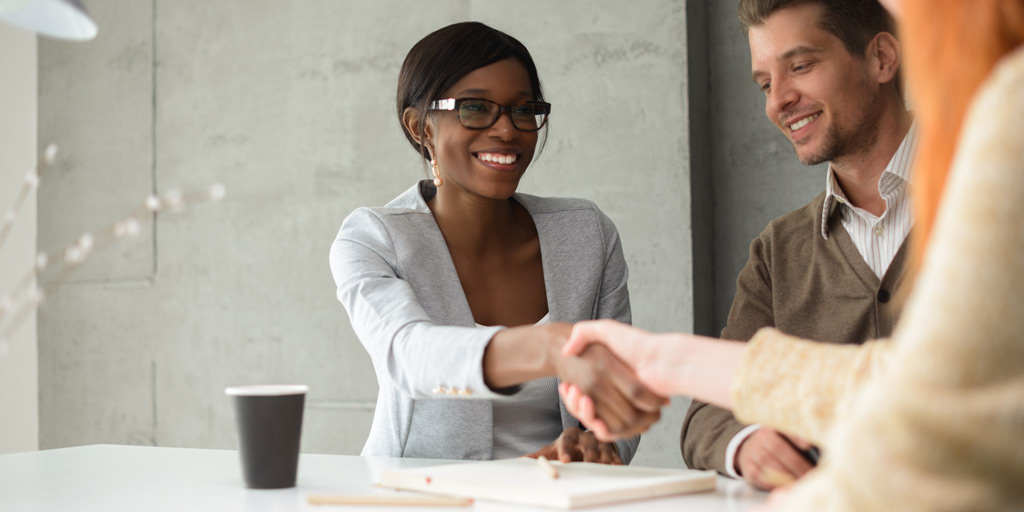 When hiring a new employee, there's always the risk that they aren't as good of a fit as you thought. Someone confident and charming who seems great on paper might not actually have applicable skills they need for the position.
Someone's ability to successfully complete an interview may not reflect their ability to do their job. A successful interviewee might just be more personable or do better under pressure. That's great for sales or customer facing jobs, but probably doesn't apply to how well someone can do in a technical or creative position.
If you want to hire someone who is actually good for the job, you need to ask the right questions. Take into consideration these interviewing techniques to find someone who will be a good fit beyond the interview.
Plan unexpected questions
Begin the interview with some small talk. Ask questions beyond the usual "strengths and weaknesses".
Ask questions about who they are and what their interests are. This tactic helps to break through people's defenses and lower their stress levels. Let the interviewee know that you're a real person that they can be open with. Doing so will encourage them to be more open and honest with you throughout the interview process.
Be approachable and kind by having open body language and listening deeply. Authentic engagement helps to develop initial trust. You'll get a more accurate assessment of who they really are if you do this. One, because you took the anxiety out of the equation and, two, because they are more likely to tell you the truth.
Ask them to solve a problem
Consider asking interview questions that mirror the situations they will be involved in.
Present the interviewee with an average problem that would come up in a normal day on the job. You can ask them a question like, "How would you resolve a disagreement with an employee?" or "How would you resolve problem x?".
This will test if their resume matches their skill level. It will also give you insight into their strategic patterns.
Give them a short project
A verbal interview isn't always the best way to test functional knowledge. If their job is writing, give them a writing project. If their job is design, give them a design project, and so on. It doesn't matter how good someone says they are if they can't actually do it to the level you need.
Find creative ways to see what quality of work they actually produce. Give them time to complete it. This lets you know who gets the job most efficiently and who prioritizes the work instead of who is the fastest under pressure. However, if you need someone good under pressure, give them a time crunch.
The task should mimic what the actual job will look and feel like.
Be clear about team needs
Have clear character traits and skills you need for this role before the interview.
Consider what is actually required of them when making this list. Even though it's easy to get swayed by someone's ability to market themselves, be aware of what is actually required.
Also, give the interviewee an idea of what an average day on the job is like and be transparent about expectations. This clears up any misconceptions about job requirements.
If you leave out that someone is "on call" once a week and then they find out once they get the position, you might have a quick turnover. Be sure they are someone who is willing to do the tasks required.
Ask if they can see themselves doing daily tasks and, if so, what plans do they have to execute their tasks.
Ask culture fit questions
During the interview, find out what working environment they are the most effective and happy in.
How do they like to work? What is the best experience they have ever had with a boss? What part of the work makes them the most excited?
You want someone who is a good fit but also can contribute to the team in a new way. For example if you have a lot of "idea" people, maybe a better fit would be a technical, detail oriented person with good follow through.
Avoid homozygous hiring based on personal preference and, instead, focus on creating a well-rounded and diverse team.
Have them meet with the team
There's no better way to know if they're a good fit for the team than to have them meet the team! See how they interact with everyone (and keep in mind they might be nervous).
Choose one or two people whose opinion you trust to give their feedback about the hire. It might be different than yours. Hiring managers might not actually be in tune with what the team needs on the floor. Also, checking in with coworkers eliminates personal bias's that negatively impact the company.
Nexxt is a recruitment media company that uses today's most effective marketing tactics to reach the full spectrum of talent – from active to passive, and everything in between. Learn more about hiring with Nexxt.
This article was written by Kris Leigh Townsend.
Kris Leigh Townsend is a writer based in Los Angeles.