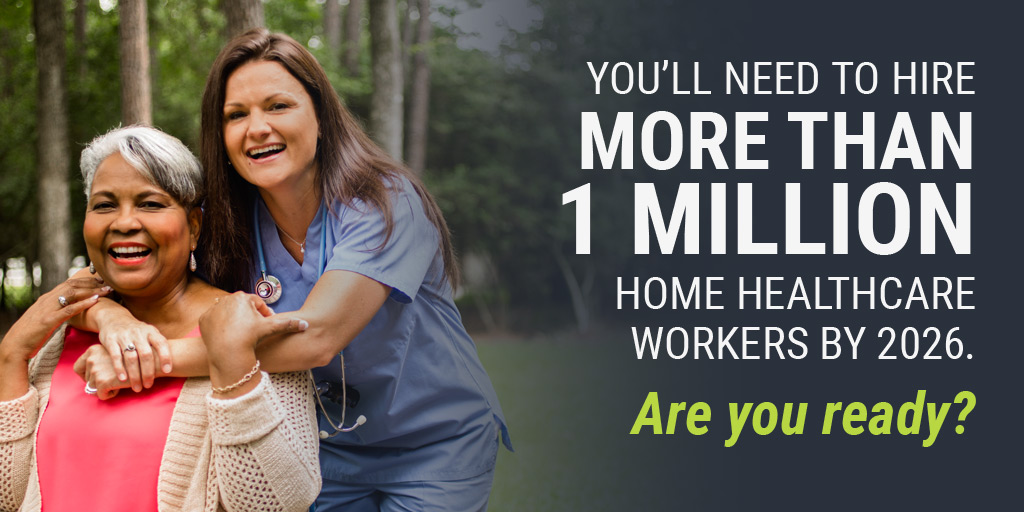 Of the many "unsexy" jobs out there, home health aide is at the top of the list. But, make no mistake, they're incredibly important roles. It takes a special and selfless person to help a stranger with the basics like bathing, eating and dressing.
Elder care workers, including home health aides, are among the most necessary and in-demand employees as the Baby Boomer generation continues to age. According to the Bureau of Labor Statistics, elder care employment will grow 41% by 2026.
But, here's the kicker. Home health aides are underpaid, with nearly a quarter of them living below the poverty line, and they're often faced with burnout and fatigue. Additionally, many of these jobs offer little to no benefits. These aren't exactly selling points for jobseekers.
For healthcare recruiters, that creates a dilemma – how do you recruit the best candidates for a not-so-glamorous job that becomes more in-demand every day? You'll need some hiring tricks up your sleeve to keep your pipeline filled.
SMS Text Message
According to a Nexxt survey of 2,400 healthcare workers, 35% prefer that a recruiter reaches out to them by text message. Given how busy these workers are, it makes sense that they'd like to be contacted in the quickest and easiest way possible. In addition to making the hiring process easier for the candidate, text messages are opened and read much more than emails – a staggering 97% compared to 23% – and allow recruiters to reach a large pool of candidates all at once.
Punch up Your Job Description
Let's face it. Work as a home health aide isn't exactly a walk in the park, so it's crucial to highlight the few benefits and perks that do come along with the job, if possible. If the job you're hiring for offers traditional benefits like health insurance and vacation days, make it very clear in the job description to balance out some of the less desirable aspects of the job.
Recruit for Hard and Soft Skills
Knowing the challenges of a job in elder care, medical training isn't the only necessary qualification for a good candidate. Pay close attention to your candidates' soft skills. Characteristics like listening skills and empathy are critical to home health aide's success and the happiness and comfort of patients and their families. After all, you wouldn't want a total Grinch working with your loved ones.
Think Outside the Box
Since you're competing with thousands of other healthcare recruiters all vying for the best candidates, you might need to get creative to fill your open positions. Turn to unorthodox resources to source candidates– reach out to trade schools, colleges and ESL Academies. Many students are skilled workers actively looking for a job. Niche job boards targeting healthcare industry jobseekers can also be a promising source of leads.
Phone a Friend
Current and former employees can be a very reliable source of candidate leads. Referrals are three times more likely to be a good match for the job, because your employees can give a more accurate description of what it's like to work for your company than a job description can. In fact, according to a Nexxt survey, 71% of HR professionals believe that employee referrals are the best resource available for finding quality candidates.
The number of aging adults is only increasing and the elderly will always need home care, so this trend isn't going away anytime soon. By implementing some of these recruitment practices now, you can start to build a strong network and pipeline that will continue to deliver results years down the road.
For more research on hiring home health aide workers, click here to download our whitepaper, Elder Care Crisis: How to Find & Hire Quality Home Health Aides.
Want to get in front of the millions of qualified healthcare professionals? Visit hiring.nexxt.com to learn how we can introduce you to your Nexxt great hire.
Nexxt is a recruitment media company that uses today's most effective marketing tactics to reach the full spectrum of talent – from active to passive, and everything in between. Learn more about hiring with Nexxt.