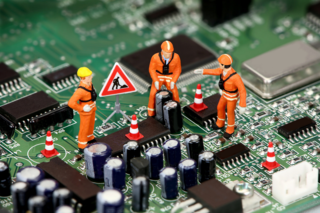 The hardest part of posting a new job advertisement is building the description itself. You know what the job entails and you even have a perfect candidate in mind, but how do you make sure your job ad appeals to those coveted candidates? Your hiring leader wants the applicant to be aware of every aspect of the job, but you know there's such a thing as giving too much information. You're trying to get candidates excited about the open position, not scare them off with a long list of qualifications and demands.
Mixing all of these factors together can be daunting, no matter how big or small your business is, but if you separate your job advertisement creation process into three distinct parts, you'll find it's easier than you think.
Part 1 – Keep the Best, Trim the Rest
The first section should cover the responsibilities of the job. Keep the bits that are most important (how success will be measured), and leave out the more minor details (what percent of the day they'll spend typing).
You want someone applying to know what their role on your team will be, but you don't want to inundate them with tasks they'll learn on the job. Loading up your job description with "essential requirements" means you'll get fewer people to apply. Identify what you absolutely need for the job, then let candidates surprise you with their other skills. And let's be honest, don't most people have a general idea of the basic skills involved in almost any job?
Do This Best:
How long should your job advertisement be? There's no hard and fast rule, as an appropriate length could vary by job. However, recent study by Appcast.io suggests a job ad should be between 2,000 and 10,000 characters (about 250 to 1,000 words). Ads shorter than 2,000 characters or longer than 10,000 characters had a click-to-apply rate of less than 7%, while those in the 2,000-to-10,000-character sweet spot boasted a click-to-apply rate slightly under 15%.

Part 2 – Liven It Up with Culture
Getting people interested in your company is as important as getting them interested in the job itself. So, in the next section of your job ad, focus on your company culture.
At Social HR Camp, Crystal Miller (@TheOneCrystal) of Branded Strategies made this recommendation:
"When you create your messaging, create a script. If you don't, you'll contribute to candidate confusion… [for example] a third of your job description should be showing how you care and talking about your workplace culture… your bullet points get ignored."
This particular piece should help your recruiting process, too. Candidates who understand your culture will know instinctively if it's one they want to join. Job seekers who are not interested in the type of work experience you offer will drop out, which means you spend less time filtering out candidates who aren't a great fit.
Do This Best:
People care about culture because they want to know what their day-to-day work life will be like. Describing the people who already work for you – as well as the work environment – makes the whole experience more tangible, so it's easier for candidates to imagine themselves in your office (or, not imagine themselves there). This in turn could make them more interested in applying. It also brings the other elements of your job ad together, forming a clearer picture of how the job fits into the company. Emphasizing the strength of your culture also makes your company look more stable, as companies with a rich culture have 34% less turnover than those without one.
Part 3 – Make the Hard Sel
Okay, so a good job advertisement has a combination of essential information about the job and insight into the company itself. Makes sense. But, job ads are more than that – they're advertisements, and they need to sell candidates on the job and company in the same way traditional ads sell consumers on products. This is especially true for smaller companies who lack the brand recognition of big-name organizations. Oh, and candidates only look at most job ads for 50 seconds, so you don't have much time to make an impact.
If you want candidates to apply instead of just window shop, you need a direct call to action to motivate them. After building the first two parts of your description (requirements and culture), include a clear message on how to apply with a fast link to your application. Without this crucial piece, jobseekers will lose interest and never convert to applicants.
Do This Best:
Many companies include a small detail here to weed out those who are "spraying and praying," such as citing a specific email address where cover letters should be sent or a phrase to include in the subject line of their application. In this way, they can tell who is truly paying attention to the advertisement and who is not, much like a specific coupon will give a company additional identifying information about a customer. Keep in mind, these are tips that even someone without much of a hiring budget can implement immediately.

Using these three key parts to build your job advertisements not only makes your job more attractive, it follows the lines of a classic story, which as humans, we've been trained to expect. A properly crafted job advertisement will also help your talent acquisition team by setting expectations, allowing candidates to self-select out of the culture (and your hiring process) and assist in screening out candidates who aren't genuinely interested in working with your company.
Nexxt is a recruitment media company that uses today's most effective marketing tactics to reach the full spectrum of talent – from active to passive, and everything in between. Learn more about hiring with Nexxt.