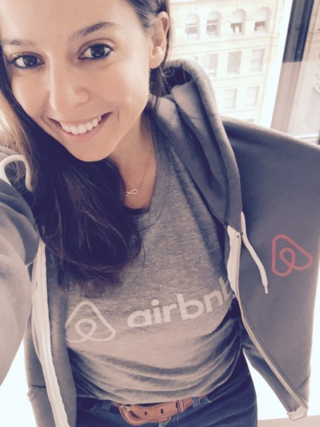 Most job seekers really, really, really want to find a new job. Some have specific companies where they'd ideally like to work, but chances are they're still applying other places.
And then there's Nina Mufleh.
Mufleh really, really, really wanted to work for Airbnb.
She relocated from the Middle East to San Francisco in hopes of landing a job with the company, but after a year of trying all the usual approaches, a job offer still hadn't materialized.
That's when she decided to try something way outside the norm. She created a digital resume that highlights her knowledge of the company and features well-researched analysis of their areas of opportunity. Her personal work history takes a backseat, but her passion shines through from beginning to end.
Now, Mufleh is clearly an outlier, an extreme example of candidate enthusiasm and persistence. But if she hadn't taken extreme measures, Airbnb may never have recognized her passion and the value she could bring to their growing company.
Mufleh is not just another click on a job ad. She's not a string of keywords running through an ATS. But that's what the current system reduces her to – along with every other candidate out there. She just managed to find a way to use her ingenuity and talent to beat the system.
The current process isn't designed to identify this kind of passion. In fact, it's set up to reward compliance and uniformity – exactly what most of us aren't looking for in our next hire and in the members of our team.
Changing the entire application and hiring process is more than we're attempting to tackle in this post, but there are some take-aways for any company who's inspired by this story.
Recognize the power of your recruitment brand as an extension of your corporate brand. The two should be closely intertwined. Mufleh started out as a host for Airbnb, and fell in love with the concept of the company before she began her quest to "find a way to contribute to [its] future."
Look for ways to inject ingenuity into the hiring process and welcome passion, creativity and dedication in the candidates you encounter.
Find ways to overcome lack of brand recognition. Not every company has the popularity and cool factor of Airbnb. So how do you inspire the level of passion that Mufleh displayed? Think about the things that make you want to work for your company, what makes it great. Make sure those things come through in every touchpoint you have with candidates, from your website, to your social channels, to your job descriptions.
Oh, and if you're wondering how Mufleh fared with her unique resume, she landed an interview with a marketing recruiter within days of sharing it on Twitter. Can't imagine that a formal offer will be far behind.
Image Source: Business Insider

Nexxt is a recruitment media company that uses today's most effective marketing tactics to reach the full spectrum of talent – from active to passive, and everything in between. Learn more about hiring with Nexxt.