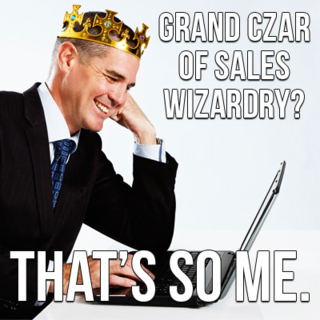 When I first started putting some thoughts to paper, I was going to write solely about how the job title an employer lists on their job postings can affect the job's performance – but then I looked at my own situation and the subject matter grew.
Northeast Sales Team Lead, Talent Solutions (a position with several direct reports)… that's the job title that I was recently promoted to.
Director of Employer Sales (a sales representative role with no direct reports)… that's my previous title.
If you are confused how going from "Director" to "Northeast Sales Team Lead" is a promotion, based on title alone, you would be justified.
I'm picturing how I would explain that in a job interview.
    Me: Trust me, I've advanced in my career.
    Prospective Employer: Are you sure?
    Me: Absolutely, this was a step up.
    Prospective Employer: I'm just not seeing it…
I have actually had that conversation with friends and I still get the feeling they think I'm lying about being promoted. It's a great example of how often job titles do not reflect the job being performed. I think too often companies try to get too sexy with their job titles. This can not only have an impact on the employee when he or she advances in their career, internally or externally, but also when the employer is trying to fill the position.
Only people inside the organization will know what a Grand Czar of Sales Wizardry role entails and I promise you that there will even be people internally who do not know. I get why it's done. Companies think it makes their job posting stand out from the others, but the fact is that you will be putting your posting at a competitive disadvantage. Grand Czar of Sales Wizardry, while quite catchy, will not net you as much traffic on your posting as good ole Sales Representative or Sales Manager will generate in organic search results.
Just a quick thought from a Northeast Sales Team Lead formally known as a Director of Employer Sales who desires to one day be a Grand Czar of Sales Wizardry.
Nexxt is a recruitment media company that uses today's most effective marketing tactics to reach the full spectrum of talent – from active to passive, and everything in between. Learn more about hiring with Nexxt.