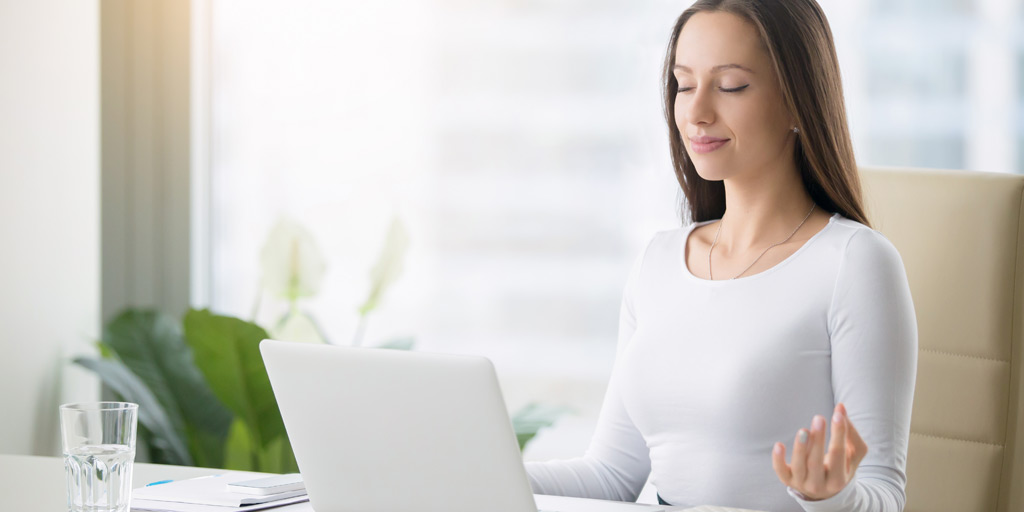 In years past, workplace wellness programs meant discounted gym memberships and awkward office-wide weight loss competitions. And while we love a good discount, across the board, corporate wellness is diversifying and modernizing for the better. From a focus on meditation and mindfulness to personalized, data-driven wellness plans, what we're seeing from employers across the country is a holistic, modern approach to wellness in the workplace.
So, employers, here's what you need to know to bring your corporate wellness program out of the Stone Age and into 2019.
#1: Ohmmmm.
While nutrition counseling and a discount at the local gym are great ways to encourage your employers to prioritize their health, physical fitness is only half of the equation. Savvy employers across the country are also factoring mental health into their programs. According to a 2017 study by the American Psychological Association (APA), work is the third most common source of stress for Americans, and unhappiness in the workplace can even lead to physical ailments. Lucky for you, there are a variety of ways that employers can address mental health in the workplace – from offering weekly yoga and meditation classes to "mental health" days to implementing Employee Assistance Programs that offer support to employees struggling with personal or work-related problems.
#2: Mo' Money, Mo' Problems
Today's workplace wellness programs even go beyond physical and mental health. Financial wellness is becoming a major focus for HR departments across the country – and with good reason. According to PwC's 2017 Employee Financial Wellness Survey, over half (53%) of employees say money stresses them out and financially stressed out employees are more likely to become distracted at work, miss work or develop health problems due to money problems. As employers continue to catch on to this trend, we expect to see more of a focus on financial wellness in 2019.
#3: A Data-Driven Approach
In addition to expanding their breadth, wellness programs across the country are also getting pretty technical. Thanks to data tracking platforms and internet of things (IoT) systems, companies can not only track and demonstrate the ROI of their programs to internal stakeholders, but they can also deliver personalized results and wellness advice to the employees participating.
In today's wellness-obsessed culture, a personalized, data-driven wellness program is a non-negotiable. Employers, be sure to incorporate mental and financial wellness into your plans to keep your employees happy and healthy this New Year is and to attract the best and brightest new talent.
Want to get in front of the millions of qualified professionals? Visit hiring.nexxt.com to learn how we can introduce you to your Nexxt great hire.
Nexxt is a recruitment media company that uses today's most effective marketing tactics to reach the full spectrum of talent – from active to passive, and everything in between. Learn more about hiring with Nexxt.