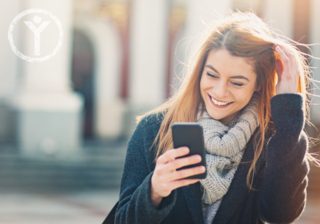 How many times did you check your phone this morning before you ever sat down at a computer? If you're like most Americans, the answer is at least once (but probably more). According to a recent Deloitte study, 78% of mobile users check our phones within one hour of waking up, with most saying they look at their phones within five minutes. And what are we most likely to check first? Our text messages.
Even more so than email or social media, text messaging is a form of communication that's not likely to be missed. So, it's no surprise that text recruitment is becoming a thing.
And while text messaging is becoming more widely accepted for business use, including recruitment, it's a unique form of communication that comes with some strict regulations – courtesy of the FCC – as well as the typical considerations to maintain privacy and professionalism. It's said that anything worth doing is worth doing well, and that couldn't be more true of text recruiting.
If you're just beginning to dip your toe – or, more accurately, your thumb – into text recruiting, there are some things to keep in mind if you want to tap into an engaged talent pool while staying out of hot water.
DO Be Prepared
Like I said, text messaging is unique. It's not an email blast you might send out to several thousand candidates, and it's certainly not a job advertisement, which could be viewed by millions. Text messaging is an intimate, one-to-one conversation. That's the beauty of it, but it could also be a challenge if you're not prepared.
"In the text messaging campaigns we send on behalf our clients, we typically target around 150 -300 of our most relevant members – sometimes more – which may trigger 30-50 conversations with interested candidates. We find that for every 100 candidates, be prepared to spend about 30 minutes in conversation scheduling interviews, following, up, etc.," explains Joe Stubblebine, VP of Talent Solutions for Nexxt. "But, thanks to the targeting and the nature of these campaigns, it's time well spent. Text campaign response rates are incredibly high, and the conversations are high value, too."
To capitalize on the potential engagement, make sure you and your team are ready to handle the volume of messages you may receive.
DON'T Get Too Formal
Text messaging is a conversation, so you can't be overly scripted. Text messages that are overly formal come across as spammy – no good. But striking the right balance with a casual yet professional tone will make candidates feel at ease and more eager to engage.
Take the time to train your team on how to communicate effectively via text. Skipping this step could scare candidates off and even hurt your employer brand.
DO Know the Rules
Many companies are wary of text messaging with candidates due to the legal guidelines involved. While the FCC does have stringent regulations in place to protect consumers (and in this case, candidates), effective text recruiting is really just a matter of knowing – and following – the rules. "With Nexxt's campaigns, we ensure all jobseekers are opted-in for mobile communications, and we use a compliant delivery service to ensure that recruiters can focus on what is important to them:  the message and the conversations," says Stubblebine.
Basically, it's all about consent. Make sure you're reaching out to a list of opt-in candidates, meaning they have agreed to receive text messages from you, or the party sending on your behalf. And selling is a no-no – advertising or promoting a product or service opens you up to a whole host of additional regulations. One of the most well-known cases of businesses getting fined for breaking these rules is a class action lawsuit against Papa John's that settled for $16.5 million. The best way to safeguard your text recruiting efforts is to partner with someone like Nexxt, who has an opt-in list and the expertise to keep your campaign compliant.
By preparing well and being aware of potential pitfalls, text recruitment has a huge upside – like mega-engagement and impressive response rates for starters. If you have any doubt, just try ignoring the next text message that pops up on your screen.

Nexxt is a recruitment media company that uses today's most effective marketing tactics to reach the full spectrum of talent – from active to passive, and everything in between. Learn more about hiring with Nexxt.