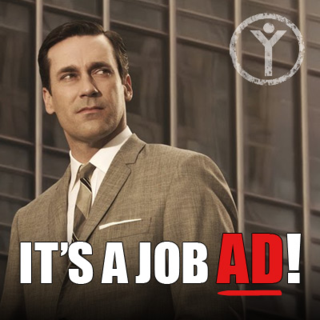 Want to get more responses to your job ads? You can advertise in more places. If you are paying based on performance you can raise your bid. But, there is one thing you can do that doesn't cost anything and might have a HUGE impact. Write a compelling introduction in your job description. In fact, just focus on making the very first sentence as compelling as possible.
When someone searches for your job on many career sites, they will see the job title, the company name, the location, and the first sentence of your job description. For the name, you need to use the commonly accepted professional title, or else they won't find the job at all. And company name and location are straightforward. But the first sentence of the job description–that is the wasted opportunity.
Remember, this is a job advertisement. Advertising is supposed to be fun and creative! Imagine advertising your job on morning drive time radio.
This is Howard Stern, here to tell you about a new Project Manager Job at XYZ Construction. Applicants are asked to submit a resume along with a cover letter that outlines their qualifications and compensation requirements. To apply, visit their website at. . .
Or, how about this scintillating read:
Don Imus here to talk about Yellow Hat Contractors. They've got a new position for a project manager who is responsible and fully accountable for the full project life-cycle manager of projects from initiation to closure. Learn more by. . .
Job ads need to motivate candidates to respond to your ad and want to work at your company. So, why do we waste the first sentence explaining what the job title means, or with logistical details? Some ads start with a quick company description, which is better. But, you've got one sentence to grab their attention. Why not paint a picture for why they should work at your company?
Angelo Cataldi here for Greenfield Building. They are looking for a construction project manager. If your dream job is to wake up at 5am as the sun rises over the city skyline that you are helping to revitalize, then check them out. . .
That ad will appeal to a certain type of project manager–the type that Greenfield Building wants to hire.
We spend a lot of time at Nexxt reviewing performance of the jobs employers post on their site, trying to figure out why one job is attracting lots of interest while another is pining away in obscurity. There are lots of factors, but one that makes a clear difference is the first sentence of the job description. Try it yourself. The next time you have a job to advertise, try writing a creative opener. I'd love to hear how it turns out.
Nexxt is a recruitment media company that uses today's most effective marketing tactics to reach the full spectrum of talent – from active to passive, and everything in between. Learn more about hiring with Nexxt.