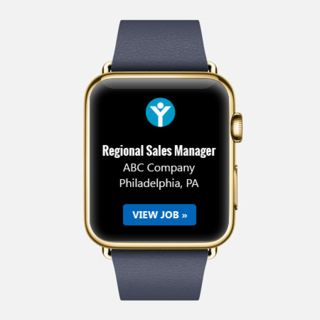 The much awaited Apple Watch is out! At Nexxt, we don't want to waste a second, so we've already started designing our Smartwatch Smartalerts. It may take a little while for technology and the market to catch up, but why not start considering the possibilities?
Dick Tracy was able to receive phone calls on his wrist, but if he decided he was ready for a career change, could he find his next job? Imagine–you are looking for a new job in sales, and the minute the perfect job is available, bang, there it is. One quick glance down, and you are on your way to a new future.
Of course, if you are looking WHILE you have a job, you'll have to explain to your boss why his meeting was interrupted by your phone suggesting you find a job somewhere else. But we can design around that. Perhaps bring back one of those "boss alert" screen saver apps that were popular on games way back in prehistoric days.
Okay, we're kidding. Mostly. But why not explore how smartwatches might help companies recruit, and people find jobs? We know from our research that most job seekers use multiple devices for different purposes in their job search–smartphones to look at career alert emails, tablets to do research, computers to apply [Click here to get our free whitepaper on the multi-screen job search]. It seems likely that this ecosystem can be expanded to the smartwatch.
Actually, job search WILL be extended to the smartwatch naturally. Email and text alerts will be read on smartwatches, and we already serve jobs in those. So people will see jobs. The challenge? Most job alerts won't look very good on the tiny screen. We've barely entered the age of responsive design, in which our emails and websites must look good to the user at any size. Now we'll further complicate things by presenting an even smaller footprint. Notice that the examples that Tim Cook shared in this presentation were all very short texts, not even Twitter length!
To be effective on a Smartwatch, we must get better at presenting information succinctly, extracting maximum value from minimum space, and creating a path for people to engage in a larger ecosystem.
But imagine. . .you are looking for a job in retail, and walk past a store with retail job openings. You feel a simple tap on your wrist, and see a notice that the store is hiring. Apply within, or tap to send your portfolio to the hiring manager. Why shouldn't this be possible?
The great thing about the Smartwatch is that limitation breeds  innovation. It's the brilliance of Twitter. Give me a couple thousand words to express my point of view, and I might drone on and on (kind of like this article, perhaps). Force me to express myself in 120 characters and I need to get creative. And, the reality is that we still haven't solved job search on Smartphones. Most company job sites are difficult to use on a mobile device, and forget trying to edit and upload a resume. And, that may be okay. Not every device has to do everything.
But, the ecosystem should work in harmony. The advent of the smartwatch provides fresh inspiration to create a better–and more effective–system for job seekers and recruiters. Let's have some fun and see where it takes us.

Nexxt is a recruitment media company that uses today's most effective marketing tactics to reach the full spectrum of talent – from active to passive, and everything in between. Learn more about hiring with Nexxt.